Welcome to another 5-minute Friday about Products That Make You Money Dropshipping!
In each of the videos I release every Friday on my channel, I take something that I have learned throughout the week, or anything else that could help you make a strategy for making money online via dropshipping products or an e-commerce business. Anything that I feel like you guys will get benefit out of, I put in it a 5-minute segment, which is called 5-minute Friday.
And we are about to hit another one right now. But before we jump into that, last Friday, we covered the topic of "How to Automate Social Media Posts." In the video, I showed you the software that I used, and why I like to use THAT specific one. Just from automating my social media posting, I made $13,000 in sales! Without hassle! If you want that easy and quick inflow of cash into your business (I'm guessing you do), I highly recommend going back to watch that 5-minute Friday and try out that software for yourself! When you're ready, you can click here to sign up for that Social Media Automation software I recommend).
Now, on to today's video!
Instead of giving you guys a strategy, I want to show you a winning product that you can test right now.
Winning Dropshipping Products:
Examples of dropshipping products continued…
Just like any other winning product I've featured, I found this one by scrolling through my Facebook newsfeed. When I go to Facebook, I usually spend most of my time scrolling, and when I see a product like this one, I'll click the Shop Now button in the Ad, I add the product to my cart on the competitors website, and then I go to the checkout page and… I exit! And I keep doing that because, by doing this over and over again, I am showing Facebook that I'm a hot buyer. I'm getting right to the checkout page and I am actively doing this, so Facebook sees me as WANTING TO BUY and so I get shown ads and, at that, great ads.
I find A LOT of good products to dropship this way. It does take a bit of time and effort to find the right products, but it works! Want to save time? See below…
Related Reading
Get shown Hot-selling products in seconds!
We've said it over and over again - selling the RIGHT product is the MOST-IMPORTANT piece of the puzzle. That's why we've created our PirateProduct APP - our very own PRIVATE product research APP that dishes you Hot-selling products other people are currently making money with RIGHT NOW to save you TIME, HEADACHE, and money!
So yeah, I kept doing that and I came across things like the bag above. I have seen some people make massive progress selling bags like this.
And then we found some products that make you money dropshipping – in particular, we found this travel pillow!
When I get shown an Ad in my facebook newsfeed like this travel pillow that is going viral (the post has lots of likes, comments, and shares), I then investigate the page inside facebook to see what other ads they are currently running and whether there are any other products they're making money with.
Yep! So when you see an Ad in your newsfeed, find the page in the facebook ads library and check their other ads. Here's how…
When you see the Ad in your newsfeed, click on the business name. Like below, I would click on Elsewhere in the bold blue text.
You will then be taken to their business page inside Facebook.
Next, scroll down and on the right where it says Page Transparency, click See more.
Then click on Go to Ad Library and you will then be taken to the Facebook Ads Library and you can see ALL ADS this page is running.
Alternatively, if you close the Ad like I did for this travel pillow, you can find the business again by going directly to https://www.facebook.com/ads/library and then search for the name of the website.
So, moving along.
I saw the Ad that came up to my news feed, which I accidentally closed. But in the Facebook Ad Library, you can go up to the top of the page and you can type in the name of the website. I typed in "Black Steals." Results showed that Facebook has 68 Ads that are currently active or inactive for this business inside the Facebook Advertising platform.
As the ad was released just this September, this would be the newest Ad that they are running. What I like to do is when I find a business that's running lots of Ads, I go to the ones that have been running the longest. The longest-running Ads are the ones that they are putting the most amount of money into, cause they have been in the platform for the most extended duration.
I scroll to the bottom, and you can see here that it started on July 30th. It's been running for over, let's say 5 or 6 weeks right now. This product here is another one you can go and test. It's another one that we're going to focus on.
You can see straight out of the gate that they're testing a lot of thumbnails–all of which are seemingly from the same video. If I go and press play, they are just playing around with the various frames. You know that they are making money with that, because it's still running, thus giving a good sign for you to go out and test it for yourself.
So now we know that this advertiser has been running this ad for a while and is thus making money, we're off to a good start. What we are going to do now is to gather as much information as we need to be able to replicate it for ourselves. Look at their product page and focus on the price. They are selling the neck pillow for $19.99. If we add it to the cart, we want to check the charge for shipping, and it looks like they're charging $5.95 across the United States. All in all, they're getting $25.26 from it. Let's see how much everything would cost on AliExpress.
In AliExpress, I just typed in "travel pillow," and found one at $9.49. Let's take an estimate of at least $20 to spend on the Ad. The pillow costs about $9.50 in AliExpress, so we're going to sell for $24.95 (around competitors price we KNOW is working for them) plus $4.95 for shipping. All in, we will sell it for $29.90 including shipping. That gives us $20 to go out and spend on ads which is what I like to do when we're working with selling products for under $30.
And if you guys have been following me on my YouTube channel (click here to subscribe to my YouTube) you should know about my Winning Product Framework.
More Info
The Winning Product Framework (WPF)
The WPF is a Google Sheet template you can download that helps you decide whether or not a product is worth marketing.
Not all products you find that are trending are going to be products that you want to try and make money with yourself. Some products can result in lawsuits (think small parts in baby toys), be too seasonal, or just not have enough profit margin. To save you the risk of spending money on these types of products, you can plug them into our Winning Product Framework google sheet file to see if they are worth testing.
So… this "travel pillow."
Again, the competitors are charging $25.94. We buy for $9.49, and let's say that if we sell it for $24.95 plus $4.95 shipping, we're making at least $29 profit for ourselves!
Before I go ahead and try to advertise the product myself, I plug it into the Winning Product Framework, as shown below.
Do we have $20 to spend on ads? Yes, we do. High perceived value? No, not really. Highly-unique selling point? Yes.
If we take a look at their product description in the videos, they go through stuff like "posture" and "helps protect the neck." If we look at this thumbnail, it says that it's scientifically proven to provide neck support. What I am getting at is that they're marketing this not as just a travel pillow, but one that is GOOD FOR YOU. U-shaped travel pillows don't usually have that support. This one looks like it has a sort of clinical feel to it. That helps sell it. That's the WOW factor.
I could therefore say that it has a unique selling point. Does it improve customer life? Yes, it helps them become comfortable while they are traveling. People love to travel so much these days. Think: travel bloggers, people travelling for business etc. So many ideas for targeting for this inside facebook.
Does it have risks? No, which is really good. Low risk of returns? Yes, because there is no size or anything. All in all, I would go out and test this and make all the criteria.
How do we test this?
I will download this competitor's video and go to animoto.com and sign up (click here to go to Animoto and sign up). I use Animoto the software a lot – it's where I edit all of my videos for my e-commerce products. They have these different templates which are really easy to implement and edit.
I would put the video into Animoto, put my own captions, and then from there, I put in my music. Animoto comes with a big range of sounds and music, so you just put your logo at the end, export it, and run it as an Ad. Lastly, you use a thumbnail similar to what the competitor is using.
Let's look at creating our product page. Here is the product in AliExpress.
What I recommend with this specific product is only adding black and not the other two colors.  Most people likely going to go to your website and buy black, and only a few will buy red, and even fewer will get gray.
On your product page THINK like a marketer. Say this product comes in BLACK so it doesn't show wear and tear of extensive travelling and doesn't show stains etc – be creative.
The MAIN reason that you only want to be selling one color is for when you start getting lots of sales. The fewer colors and variations of a product, the easiest it will be to manage your ordering process.
When you start selling a lot of these, you can start to buy in BULK and the supplier will charge you based on each COLOR, so its going to be cheaper for you to buy 500 black pills than 150 of the black, 150 of the red, 150 of the grey etc.
That means MORE MONEY in your pocket per sale.
It's also WAY EASIER to keep track of your stock when you're dealing with fewer colors and sizes. This is why I recommend NOT selling clothing when dropshipping from China – way too many headaches! Too many sizes, colors etc. Yuk. Let's keep this all as simple as possible.
When you start getting sales, focus on your Upsell products by doing this…
Now, once this product starts to sell and you're getting a significant amount of sales, you're going to be focusing on a few things like fulfillment  (I recommend using a software called Dropified to one-click fulfil your orders from your store into AliExpress – click here to see the Dropified software).
Another thing you want to be focusing on is increasing your Average Order Value (AOV) – I.e. making people spend MORE in each order in your store.
You can increase your AOV in your store by starting focusing on your upsell purchases.
What I do is I'll go to AliExpress, and I will type in a broad term, like "travel."
Then, I will sort by orders, and I will go through the results and find 2-5 upsell products that are highly-related to the neck pillow. I would add some of these to my CommerceHQ Thank You Page using the revolutionary funnel-building abilities that are available only inside the CommerceHQ platform (this is one of the reasons I recommend using CommerceHQ to run your Ecommerce store and I use it for all my stores).
How to set up your Upsells in CommerceHQ for MAXIMUM profit
CommerceHQ is a commerce platform that I used to build up all my dropshipping stores.
As mentioned above, CommerceHQ have a unique app inside their platform where you can create what they call "funnels" using their funnel builder app.
How does the funnel builder work inside CommerceHQ?
When people make a purchase on your website, they add the product to their cart, go to checkout, and once they complete their purchase they will see a page like the below.
This is what the default Thank You page looks like for a CommerceHQ store.
The good thing about CommerceHQ is that you can customize the Thank You Page using the drag and drop builder inside the software. This is where the power comes in.
On your CommerceHQ dashboard, edit your current theme and that will take you to the drag and drop builder inside your CommerceHQ store.
Then, in the top left there is a dropdown of the pages you can edit. In there, select to edit the Thank You page.
Below is the page that I created on my Thank You page for my CommerceHQ store.
If you have NOT tried CommerceHQ, basically you just drag the elements from the left onto the page in the middle.
As per my design, I dragged some image modules, some text modules, and then the button module onto the page.
Click here if you want to learn more about CommerceHQ.
There are TWO button modules in the CommerceHQ drag and drop builder. Ensure you choose the BUTTON under the FUNNELS heading of modules, as shown below.
This is VERY IMPORTANT so that you can do the next step.
When you EDIT the BUTTON module that you dragged into your page, you will see on the right that you can add ACTIONS to the button. You want to add TWO ACTIONS
The first action adds a specific product to the users cart
The second action takes them directly to the checkout page
This is EPIC because people won't actually need to go to the product page to add this product to cart. When they click this button on the THANK YOU page from their first order, they go DIRECTLY back to the checkout page but the item is added to their cart in the process.
And, with ONE-CLICK they can buy this product, because all their payment details are saved from the first order.
ONE CLICK upselling – pretty good, right!
To recap: the customer will land on this Thank You Page after ordering the travel pillow that our ad is Advertising.
On the CommerceHQ Thank You page, it says, "Wait! You can get an extra 30% off of any of these deals below," and then you'd have a picture of another product that you're upselling. In our example above, we're doing these travel luggage bag tags. (I found these travel tags by going to AliExpress, typing in the broad search term TRAVEL and filtering all products by MOST ORDERS so I know these sell very well AND it's a travel item that is not only popular, but is also highly related to the travel neck pillow.
Watch me do EVERYTHING that is explained in this article on a REAL STORE that generates over 100K in the first 30 days
As you can see from this post, Dropshipping can be highly lucrative and there are some strategies you can use to really bump up your profits, like this upsell strategy using the CommerceHQ funnel builder on the thank you page.
This upsell strategy is one of MANY strategies that I use in my Dropshipping stores – things I have learnt from doing Ecommerce full-time for 3 years now. More on my 100K Case Study below.
Case Study
100K Case Study - Learn Dropshipping FAST while saving time and money!
We realized that there were courses which teach people how to make money with ecommerce and dropshipping but there weren't any where you actually saw a REAL store grow from 0 to hero (aka making money). That's why we made our 100K Case Study!
The 100K Case Study is 150 videos and you get to watch over Grant's shoulder as he finds a product, sets up the initial facebook ads, and then scales up the store. It's The Exact System I Used To Generate $105,080 In 30 Days With A New Store!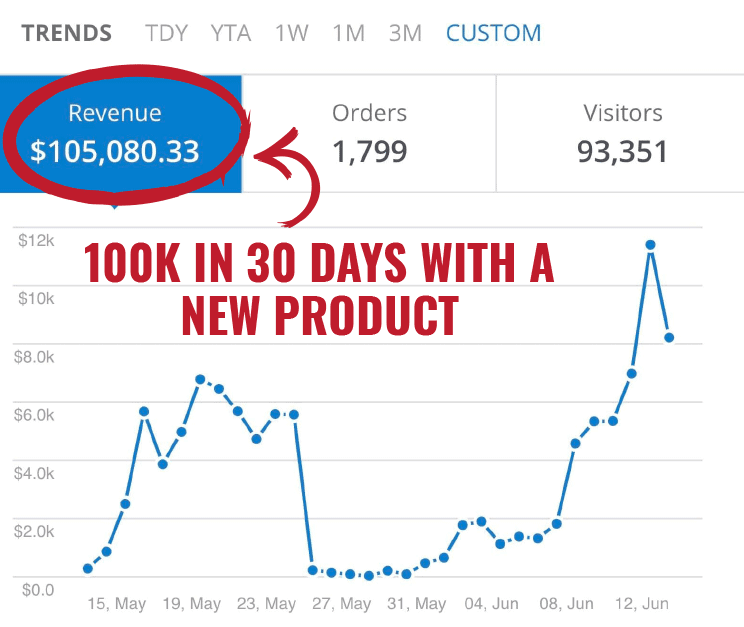 In the Case Study, these strategies and systems Grant shows YOU how to use are the exact strategies he uses to make over $1000 profit per day in the Case Study, as shown below!
Want to learn more about the 100K Case Study?