Hollllyyyy molyyy!
I've been wanting to make this post for A LONG TIME and it's finally here. This one is really close to my heart and if I had to say what has been the biggest shift in my mindset since working online, the idea discussed in this post would have to be it.
Sell the same thing many times…
This quote is so important to me because it's literally changed my life and this blog post (and video above if you'd prefer to watch video) is going to explain why. Let's go!
I teach everyday people how to make money online using an ecommerce business model called dropshipping
This probably is not new to you if you're reading this post.
And you may even know about my Story and how I made the switch to working full-time with ecommerce and generating over 4 million dollars in sales (click here to read Our Story).
But whether you're new to the WagePirate.com community, or you've been following us for a while, you will more than likely be able to relate to this post.
There are THREE ways to make money that I want to discuss here, and the first is offering a SERVICE
A service may or may not be what you're making your money doing right now. If you're trading your time for money, it's likely you offer a service.
A service is something like being an accountant, or working in corporate – you're offering a service and to get paid you need to complete this service (and sacrifice your time).
With a service, if you stop working, you stop getting paid.
This is how I spent the first 10 years of my working career and it scared me.
I actually was working as a web designer / developer offering small business websites. I had to find the customers, invoice them, show them quotes, start the work, make changes to the websites, chase late payments, and then hopefully get the final payment at the end.
I started to dread the next website I did because I was drained from doing it – drained from the processes, from sending quotes, to doing the work – pretty much everything.
Nothing about that industry – I just fell out of love with it because I had done it for 10 years, studied for 5 years at university learning to do it, and I just wasn't there mentally anymore.
Worse? If I stopped working, I stopped getting paid.
That's the problem with working in a service-based industry.
You have to keep working.
The SECOND way to make money is a PRODUCTIZED SERVICE
A productised service is one-step up from offering a SERVICE and it's a good step up.
Basically, it's where you take a service, package it up and wrap some constraints around what is included, and then you sell it many times.
Take what I was doing for example.
I was a web designer and developer doing small business websites.
I had to find a person who wanted their website designed, then ask them what they wanted, then work out how best to achieve it for them, then itemise it all in a quote and send the quote to them, and then they would tweak it a bit and (naturally) clarify each charge, and on and on.
Then, I would start on the website design. I would design their website with their branding, ask them for images, ask them for the text to put into their website, ask them what email addresses they wanted set up, make changes they requested to the design I sent them until they were happy, and so on.
This was the process when I was offering website design as a SERVICE.
Then, I started to put constraints on it and form a package.
THE PACKAGE: The client chose one of my templates, I put in their logo, changed the colors of the template to match their business' branding, and I gave them access to a drag-and-drop page builder so they could edit their website and replace the dummy content the template came with.
I specified exactly what I was to do for them and what they would need to do themselves.
And it worked!
I even was able to do websites in just 1 day, so I actually made my company called One Day Website Design. It worked, it was great!
This was me turning a SERVICE into a PRODUCTIZED SERVICE.
Again, taking a service, putting constraints on it, and systemising everything.
When you do this, you can quote better, do things faster, make high margins, and keep your pipeline moving smoothly.
This was LIFE-CHANGING for me when I did this.
The service (small business websites) still sold the same, but I was forecasting the effort each project took more accurately AND I was doing everything faster (and meeting client expectations more regularly as they knew exactly what they were getting).
AND…I was sort of…making something once, and selling it many times (we'll keep coming back to this concept).
Before we get into the third, I just wanted to let you know that everything in this blog post (and more) is covered on my YouTube channel.
Click here to subscribe to my YouTube channel.
The THIRD way to make money is by selling PRODUCTS
This is my favourite way AND why I am 100% dedicated to helping people start their first online store.
When you a physical product online, it takes NO EXTRA EFFORT to sell it 1 time vs 100 times.
The product is already there, designed, developed, on the shelves, ready to be shipped – you just have to get customers to buy it.
Do you see how powerful this is?
This is exactly why you need to start an online store!
Imagine waking up each day, and you have sales coming in to your online store and all you have to do is pay your bills? You don't have to send out quotes, listen to client problems – heck, you don't even need to work each day to get paid each day.
I get pretty excited writing about this topic (as you can probably tell) but I really don't want this to sound gimmicky.
Getting keen to start your first online store? If so, check out the link below for CommerceHQ – it's the software I use to build all my Ecommerce stores (they have an easy drag-and-drop page builder too that makes building your online store very easy).
I hope this is making you want to start an online store! Because…
This concept of selling the same thing many times literally changed my life.
And having an online store allows you to sell the same thing MANY TIMES, ANY TIME (even when you sleep), ANYWHERE (I sell worldwide and you can too!).
For me, this process happened very fast. I used to quote maybe a couple of thousand dollars to do a website design, then it would take a couple of weeks to complete it when I was offering them as a SERVICE.
When I moved to productized WEBSITES, it was in 1 day, but there were still the days before it sending quotes, chasing payments so I could begin the 1 day of building the website, and so on.
BUT when I got my first product using dropshipping in my ecommerce store that really took off, I was on a chairlift in Whistler, not having worked that day, and I hit my first $1000 day with my online store at 30% net profit.
That was $300 PROFIT that day, on a chairlift, without working.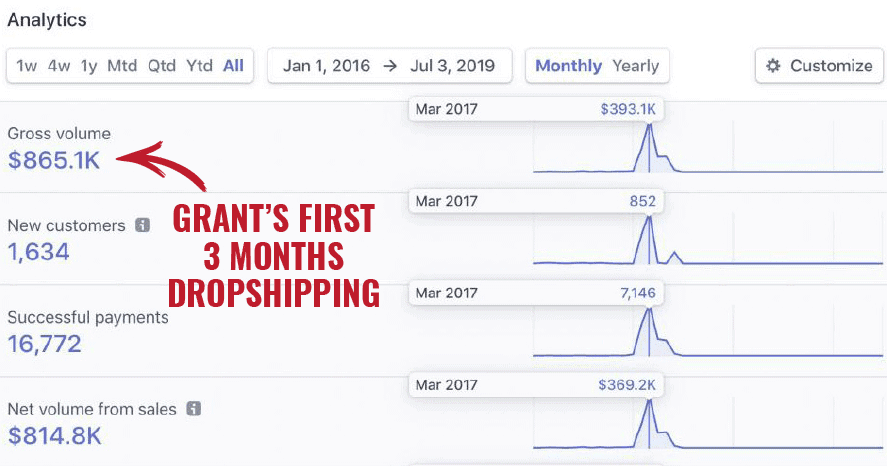 That's in USD also for my Australian / international friends, so it's actually over $400 AUD which blew my mind.
This product I actually ended up doing over $300,000 in the third month and over $800,000 in sales in the 3 months that I sold this product.
AND…it was the same product, sold MANY TIMES.
AND…because I was dropshipping it, I didn't even need to see the product. I set up my store, added the product to my store, I ran facebook ads, and when I got a sale, I told the supplier to send the product to my customers.
THEN I trained someone to send the orders to the supplier.
And it was pretty automated at that point with me just focusing on optimizing my ads.
I'm not saying this will happen for everyone to this scale, but if you're doing a SERVICE for a job right now – selling a product many times while on a chairlift making money is a life-changing feeling. I'll end that there lol but I could go on for days about this.
How do you start an online store if you don't have any products to sell?
You can start an online store without any products of your own using an ecommerce business model I teach on WagePirate.com and it's called Dropshipping.
Dropshipping is where we sell products that we don't actually have ourselves.
In a nutshell, Dropshipping is where we create an online store and the products in the online store and products that other suppliers have in their warehouses.
We build our online store with their products and then we run some facebook ads or other paid ads. When we get a sale on our website, we tell the supplier to send the product directly to our customer's shipping address and that's it!
It's super simple but it's how I have made my living online full-time for 3 years now and each year I've earned over 6 figures doing it.
Watch this FREE VIDEO and learn how to start your own Online Store today!
I just filmed a video which explains in detail how I was able to triple my income in ONE YEAR by starting my first online store using a business model called Dropshipping.
If you don't have any products to sell online, but you're keen to move away from a SERVICE based business and sell one product many times, then DROPSHIPPING is your answer.
Dropshipping is a unique ecommerce business model where you sell products you don't have.
It makes soo much sense on paper and it's exactly how I was able to make the transition from web designer / developer to running my own online store and selling products.
Read more below and then click the button to watch the video and LEARN! It's a great video, I think you'll get a lot of value out of it.
More Info
See how I was able to travel the USA in a School Bus while working online and earning more than I spent each day.
This FREE VIDEO explains how you can start your own Online Store (even if you don't have any products to sell).
Dropshipping is an ecommerce business model where you sell products you don't even have. If that sounds crazy, then you'll LOVE watching this free video.
In this video below, I show you what Dropshipping is in detail, as well as show you what products you can sell AND where to find these products to sell, as well as examples of products that are making people A LOT of money right now.